2020 Back to School
>Lunch preorder information - updated information
Please don't forget to preorder lunch for your student! Preordering information is found here
COMPLETE YOUR MEAL ORDER! Review this information when you order meals about completing the order.
>Athletics, spectator attendance and COVID-19
The safety of Bishop Dunne students, faculty and staff and their families remains a top priority of our school. Please remember that no fans are allowed at home athletic events. Where available, streaming information is provided and posted on DunneSports.com.
The Diocese of Dallas set certain parameters for the reopening of schools and left other decisions to individual schools to decide, based upon the unique situations of each locale. The Diocese made these decisions for all its schools:
All fall DPL sports for middle school students were cancelled

No visitors are allowed on campus during the school day

No field trips

Mandatory wearing of facemasks in all classes and hallways

Silent lunch periods
TAPPS left most decisions to individual schools; they will not mandate the wearing of masks, for instance. However, as a Diocesan school, we require masks are worn by our athletes and coaching staff. Regarding spectators, TAPPS requires that if a school allows spectators, it must allow them from both the home team and the opposing team. After careful consideration, we determined we could not manage the protocols for screening and monitoring, nor uphold the required social distancing and wearing of masks for the number of fans that would be coming to our facilities.
>Monday Tutorial Days and Office Hours
Monday Online Learning Days
Bishop Dunne students will follow our regular Red and Blue Day schedules, with classes 4 days a week (Tuesday through Friday). Students choosing on campus learning will come to campus Tuesday through Friday. Monday will be a required remote tutorial day for all students. No students are to be on campus so that we can conduct enhanced cleaning procedures.
Monday's remote learning day will start off with required advisory meetings at 9:30 a.m. These Monday advisory meetings will be a time for students to check in with their Advisor and make plans for the week. Advisors will review academic goals, grades, and upcoming school events with their advisory students as well as social emotional learning strategies. Attendance will be taken for the day during advisory class and it is required for all students to attend.
The advanced screening and health protocols can make tutoring time difficult for students to attend during the regular school week. The Monday office hours allow for additional time for teachers to meet individually and in small groups with students. Teachers may schedule time for a particular class, or students can make individual or small group appointments. Office hours will take place from 10:00 a.m. – 12:00 p.m. and 1:00 p.m. – 2:30 p.m. each Monday.
Examples of programs students may take advantage of include, but are not limited to:
Tutoring to review content from the previous week
Homework/project help
Review for exams
Writing and Math Lab appointments
Retakes for quizzes and exams
AP tutorials and exam practice
Make up work from absence
---
>Learning Schedule week of Sept. 7-11 (note highlighted change)
---
---
---
> Online learning schedule week of August 31 - Sept. 4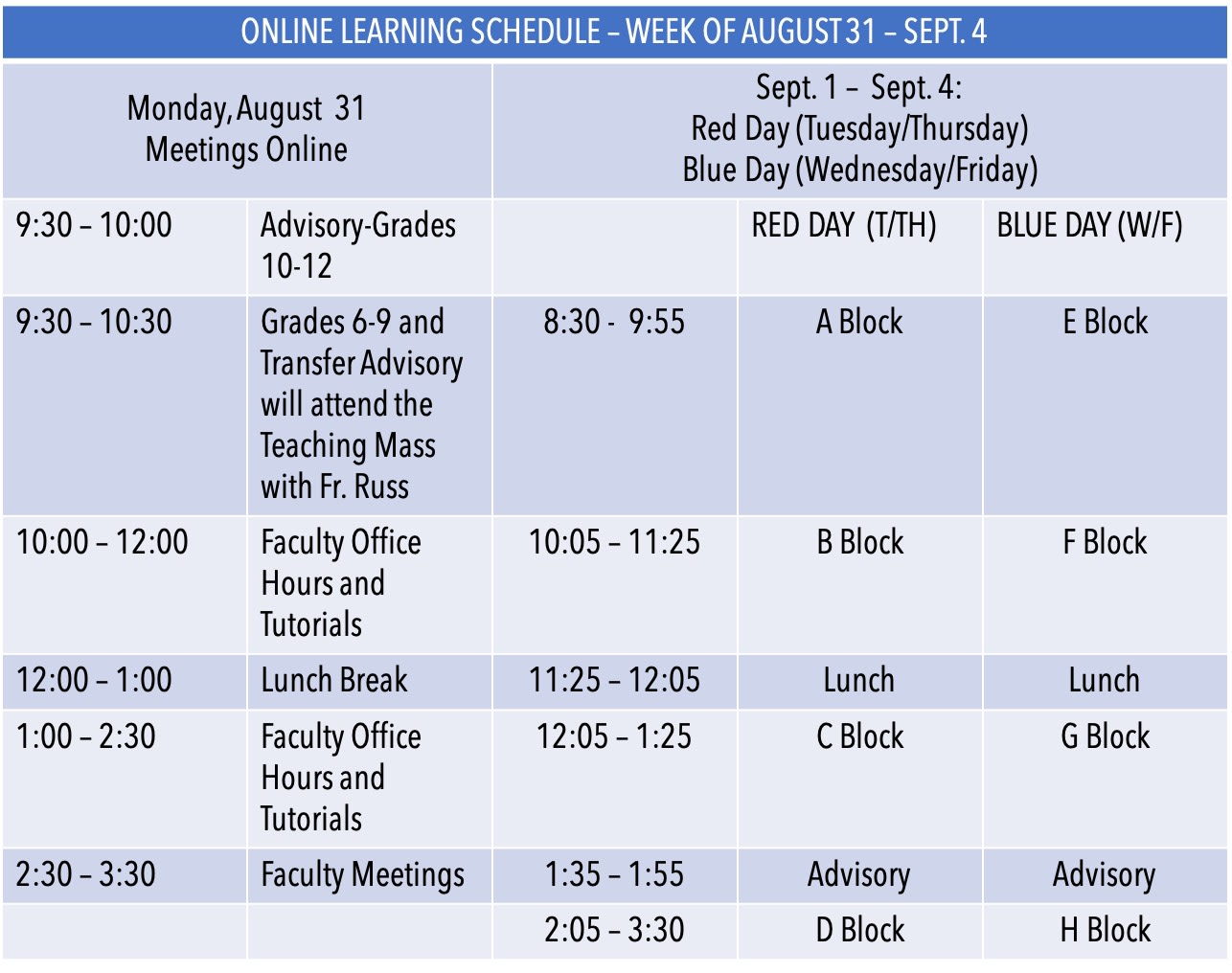 ---
> Online learning schedule for week of August 24-28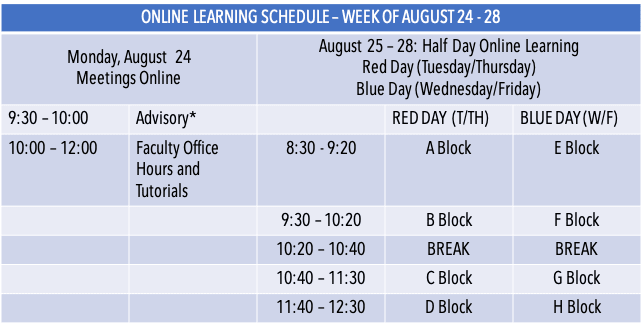 Please check here for answers to your back to school questions. This will be updated regularly.
Please note this waiver will be returned digitally, through Care Monkey. You do not need to download, sign and return.
Please note this waiver will be returned digitally, through Care Monkey. You do not need to download, sign and return.
COVID-19 Information and Resources